Rochester's
Trusted

Plumber
Since 1977, serving homes and businesses throughout Rochester
with award-winning plumbing service!
Our business philosophy
Award-winning
customer service!
With a fully stocked warehouse, over 20 trucks on the road in Monroe County—and fully trained and certified technicians nearly everywhere in between—we are confident we can give you the service, support, and satisfaction you expect from your local plumber.
Gatti Plumbing takes pride in knowing that our customers are serviced with integrity and work excellence.
See what our customers say!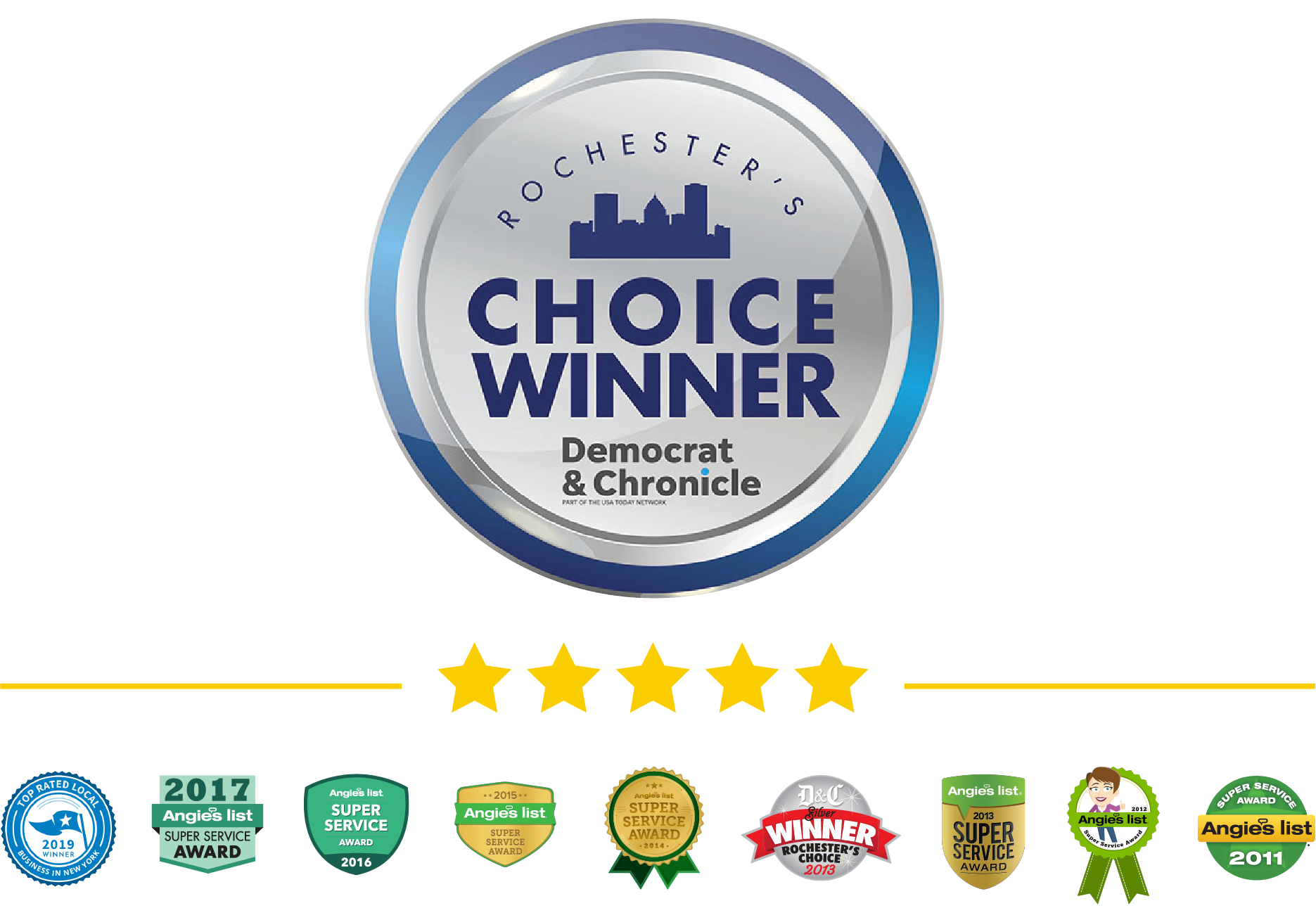 For over forty years
Proudly serving Rochester
& it's surrounding towns
Brighton
Brockport
Churchville-Chili
East Rochester
Fairport
Gates-Chili
Greece
Hamlin
Henrietta
Hilton
Irondequoit
Mendon
Penfield
Perinton

Pittsford
Rochester
Rush
Scottsville
Spencerport
Victor
Webster

About Gatti Plumbing
Just a few great reasons why Gatti Plumbing is Rochester's trusted plumber.
At Gatti Plumbing, our dedication to customer service and our experienced, well-trained plumbers set us apart from the average drain cleaning and plumbing service. If you have a plumbing need, we'll get to your home or business quickly. For regularly scheduled maintenance installations and other routine appointments, we'll work at a time that's convenient for you. That's why our distinctive service vans are seen so often in neighborhoods across Rochester…Just look for the red wrench!
Request an appointment today!
Award-winning
customer support
Certified Plumbing Technicians
Upfront pricing
Most services quoted
over the phone
Purpose built
fully stocked warehouse
5 Star Customer Service
but don't just take our word for it…
Kevin and Debbie W.

Pittsford, New York

"We wish Gatti did more than just plumbing, because anytime we call them, they treat us like family...do fast and efficient work and they always give us options to consider for how to save money!"
John P.

Rochester, New York

"Gatti Plumbing was very knowledgeable and courteous. They explained how the tankless water heater was going to work and called a few days later to see how we liked it. Very professional!"
Reate B.

Hilton, New York

"Service technician was courteous and professional; he handled the installation in an efficient manner; we have had many plumbing issues handled by this dealer and are well pleased with how all have been addressed!"
Cindy F.

Rochester, New York

"I've used Gatti Plumbing in the past and asked for a quote on a tankless heater. Their price was very good and the job exceeded my expectations. They are neat and courteous and they definitely have a customer for life!"
Robert J.

Penfield, New York

"Competitively priced, prompt response, inhouse availability and courteous personnel."
Gary V.

Rochester, New York

"Gatti Plumbing did an excellent job. Pre-sale: Very thorough, prompt contact, handled multiple questions Install: Complete, professional installation Post-sale: Quick follow-up, answered more questions HIGHLY recommend!"
John C.

Hilton, New York

"They are the best plumbers outside of my wife's late father. I highly recommend them!"
Pat C.

Rochester, New York

"Gatti Plumbing did a fantastic job with our Rinnai tankless water heater. They educated us on the equipment and did a wonderful job on the installation. I would recommend Gatti Plumbing to all of my family and friends!"
Tim F.

Rochester, New York

"Price was fair. Follow-up was good. Work seems excellent. They were even able to come a few days than expected."
Stay up to date on what's happening at Gatti Plumbing!