Recommended Since 1977
Rochester's Trusted
Sewer, Septic & Drain Specialists
Gatti Plumbing provides the most comprehensive sewer, septic and drain services for homeowners and businesses in Rochester. From general system maintenance, septic pumping, new installations and repairs, we have the knowledge, tools, talent, and manpower to get the job done on time, on budget, and with minimal intrusion.
Repairs & Maintenance
Whether addressing problems with septic tanks, leach fields, or sewer lines caused by lack of maintenance or broken components, Gatti Plumbing brings an unsurpassed commitment to every septic investigation, inspection, and repair so you can get the long-lasting durability you need for the life of your system.
Schedule an appointment today!
Septic Pumping
Are you experiencing gurgling toilets, back-ups in toilets and tubs, or slow flushing toilets? If you are and it's been a while since your last pump out, chances are it's time to schedule a septic tank cleaning.
Call Gatti Plumbing to have your septic tank pumped out today!
Sewer & Drain Hydro-Jetting
Hydro-Jetting is the next generation evolution in sewer line cleaning & maintenance. While the rooter simply uses mechanical action to punch a hole through clogs and debris to restore flow, pressurized drain cleaning uses the force of water to actually scour the inside of your line. Pressurized drain jetting not only restores flow but can remove grease buildup and even scour away tree roots to improve the flow inside of your line.
Grease Trap Pumping
If you're experiencing powerful odors arising from your grease trap it is time to take action immediately. This is the telltale sign that the trap is overloaded and overwhelmed. Without a well-maintained grease trap, fats, oils, and grease can enter the wastewater supply and clog up your main sewer line. This has disastrous consequences for you and your customers: clogged sewer lines cause sewage backups in your floor drains, kitchens, and bathrooms.
Trenchless Pipe Repair
Sewer pipes are highly susceptible to clogging, cracking and other types of damage caused by water-seeking roots working their way into the joints. Once roots take up residence inside of clay, cast iron, and other commonly used types of sewer pipes, they can eventually weaken and destroy the existing sewer lines, causing sewage to back up into the home.
Call Gatti Plumbing before the damage is done.
Sewer & Pipe Camera Inspection
At Gatti Plumbing, we use advanced plumbing diagnostic equipment to examine your pipes from the inside out. This is the best and fastest method to inspect your system, locate the root cause of pipe blockages or leaks, and avoid impending problems. Gatti Plumbing's robotic sewer televising service enables us to perform inspections of lateral lines from the mainline without the need for access to private property.
Sewer Snaking Services
In many homes and businesses, the main sewer line can become clogged over time. Gatti Plumbing service technicians will come to your home or business with a truck stocked with multiple sized sewer snakes to perform almost any size job. We stock two snakes with four different size cables that can tackle a small drain all the way up to 6 inch drains. We also carry a ride runner for the larger, more stubborn plugged drains.
Vactor & Hydro Excavation Services
We deliver viable, cost-saving vactor solutions for business and municipal needs. The Vactor Hydro Excavator can clean and evacuate main lines and tackle major digging jobs while still providing relatively safe, damage-free excavation in a wide range of applications. These include slot-trenching, waterline repair, and underground utility and pipe location.
Sewer Jetter
A hydro jetter is a trailer mounted unit that contains scour jets which use an extreme amount of water pressure to flush drain lines. These units are very effective on lines with a heavy amount of grease build-up and are especially useful for restaurants and apartment complexes. The commercial sewer hydro jetter can be used on kitchen lines as well as the main line.
Water Main Repair & Replacement
Your water main is one of the most important pipes in your plumbing system. It distributes and maintains your water supply. Should your pipe system begin to leak or malfunction, don't worry, our team of plumbing experts at Gatti Plumbing can help! Our skilled technicians will assess your water main troubles and determine whether your water main needs to be repaired or replaced.
Sewer Lateral Repair & Replacement
A sewer line backup or leak can be frustrating to deal with. Along with the unpleasant smell and messy cleanup of a compromised sewer pipe, it can be difficult to pinpoint the root cause of your sewage problem. Gatti Plumbing helps prevent sewer line damage and can mitigate an issue when it arises.
Our business philosophy
Award-winning
customer service!
With a fully stocked warehouse, over 20 trucks on the road in Monroe County—and fully trained and certified technicians nearly everywhere inbetween—we are confident we can give you the service, support, and satisfaction you expect from your local plumber.
Gatti Plumbing takes pride in knowing that our customers are serviced with integrity and work excellence.
See what our customers say!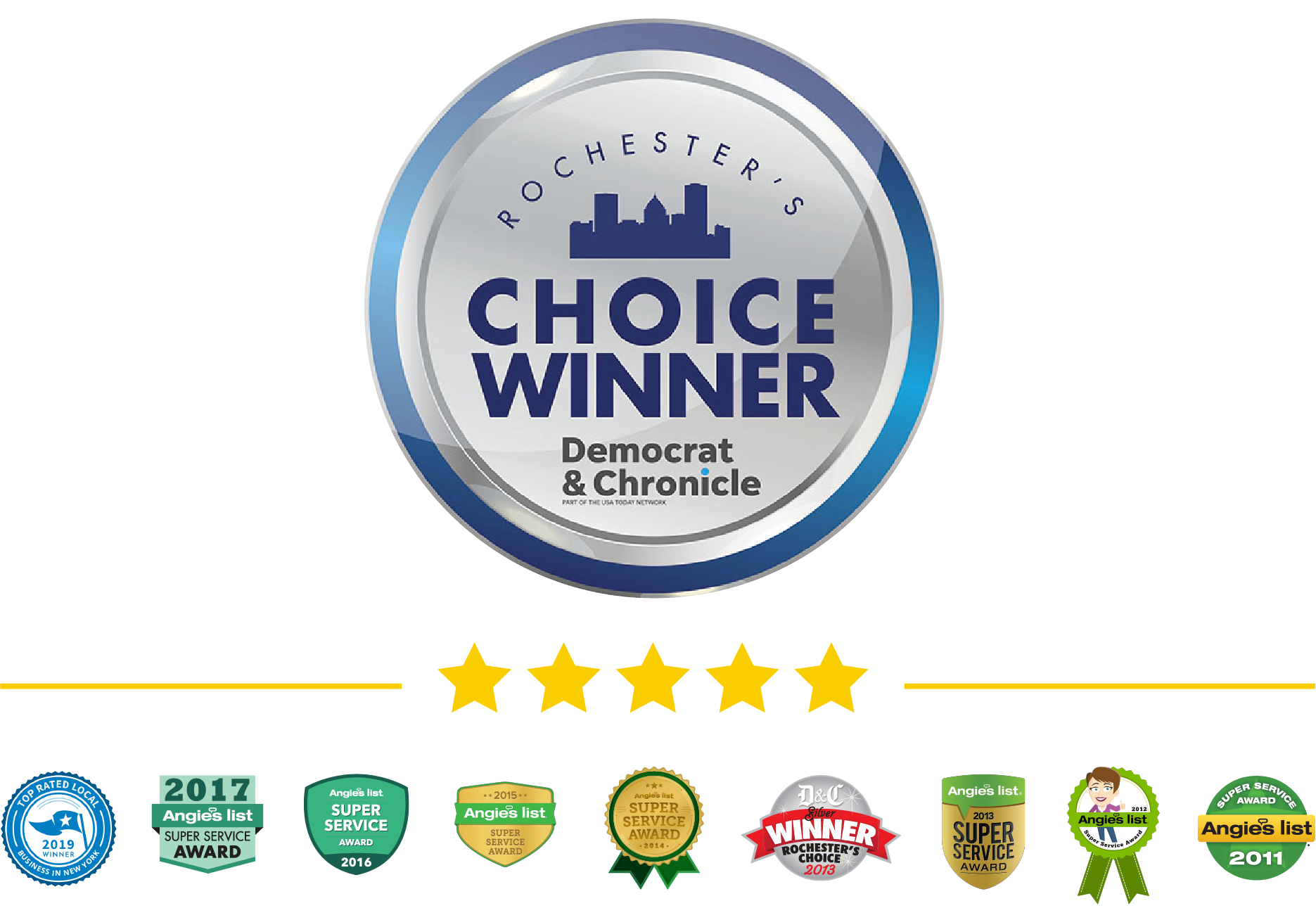 Rochester's trusted plumber.
At Gatti Plumbing, our dedication to customer service and our experienced, well-trained plumbers set us apart from the average drain cleaning and plumbing service. If you have a plumbing need, we'll get to your home or business quickly. For regularly scheduled maintenance installations and other routine appointments, we'll work at a time that's convenient for you. That's why our distinctive service vans are seen so often in neighborhoods across Rochester…Just look for the red wrench!
Schedule an appointment today!
Award-winning
customer support
Certified Plumbing Technicians
Upfront pricing
Most services quoted
over the phone
Purpose built, fully stocked warehouse
5 Star Customer Service
but don't just take our word for it…
Kevin and Debbie W.

Pittsford, New York

"We wish Gatti did more than just plumbing, because anytime we call them, they treat us like family...do fast and efficient work and they always give us options to consider for how to save money!"
John P.

Rochester, New York

"Gatti Plumbing was very knowledgeable and courteous. They explained how the tankless water heater was going to work and called a few days later to see how we liked it. Very professional!"
Reate B.

Hilton, New York

"Service technician was courteous and professional; he handled the installation in an efficient manner; we have had many plumbing issues handled by this dealer and are well pleased with how all have been addressed!"
Cindy F.

Rochester, New York

"I've used Gatti Plumbing in the past and asked for a quote on a tankless heater. Their price was very good and the job exceeded my expectations. They are neat and courteous and they definitely have a customer for life!"
Robert J.

Penfield, New York

"Competitively priced, prompt response, inhouse availability and courteous personnel."
Gary V.

Rochester, New York

"Gatti Plumbing did an excellent job. Pre-sale: Very thorough, prompt contact, handled multiple questions Install: Complete, professional installation Post-sale: Quick follow-up, answered more questions HIGHLY recommend!"
John C.

Hilton, New York

"They are the best plumbers outside of my wives late father. I highly recommend them!"
Pat C.

Rochester, New York

"Gatti Plumbing did a fantastic job with our Rinnai tankless water heater. They educated us on the equipment and did a wonderful job on the installation. I would recommend Gatti Plumbing to all of my family and friends!"
Tim F.

Rochester, New York

"Price was fair. Follow-up was good. Work seems excellent. They were even able to come a few days than expected."
Stay up to date on what's happening at Gatti Plumbing!